Let us set the stage for your… So you have a truck, a bike and need to go get out and explore. This sounds like you need a bike tailgate pad. Fortunately you have come to the right place. Bike pads for tailgates are one of our most popular items and we have tons of experience in recommending the best options for you. In this post we are going to cover everything you need to know before you buy your next truck tailgate pad.
What is a Bike Tailgate Pad?
A bike tailgate pad is a protective cover for the safety of hauling bikes to and from riding. They come in a variety of sizes for all sizes of trucks and from 2 bike tailgate pads up to 8 bike tailgate pads. They are designed to wrap around the rear tailgate of a truck offering protection for both the bikes and the truck. Tailgate pads for bikes are designed to have the bike stand up while being strapped in to the tailgate of the truck.
50 Most Popular Bike Pads for Tailgates
Below is a list of the 50 most popular tailgate covers on Online Outdoor Outlet.
Shop All Bike Pads for Tailgates
Are Tailgate Pads Safe?
Tailgate pads are one of if not the safest way to transport your bike if used properly. Unlike hitch bike racks there is little to no chance your bike could fall off or come loose on a bouncy road. With a tailgate pad for bikes you are strapping the bike in around your bottom tube with a secure strap while the front wheel hangs over essentially creating a wedge. Even on the bumpiest roads your bike will stay secure in place. The only thing you need to look out for is bike on bike crime where they rub against each other. We always recommend giving plenty of space between bikes to avoid them rubbing on bouncy roads or use some type of protective wraps.
What to look for when Buying a Bike Pad for Tailgates
For the most part all quality bike pads for trucks will have the same features. There are a few things that we recommend you pay close attention to when selecting a bike pad for your truck.
Bike Pad Sizing
The first thing you need to determine is the size of bike pad you need for your truck. In most cases you will find that a bike pad will come in 3 sizes Small, Medium and Large. Small size Tailgate Pads will usually only hold between 1-3 bikes and usually do not cover the full length of the trucks tailgate. Medium size tailgate pads will cover the full width of the tailgate in small to medium sized trucks. These are usually your Toyota Tacoma sized Trucks. Large Tailgate Covers will fit most full sized trucks ranging from your F-150 to F-350. We always recommend measuring the width of your trucks tailgate before purchasing a bike pad for your truck.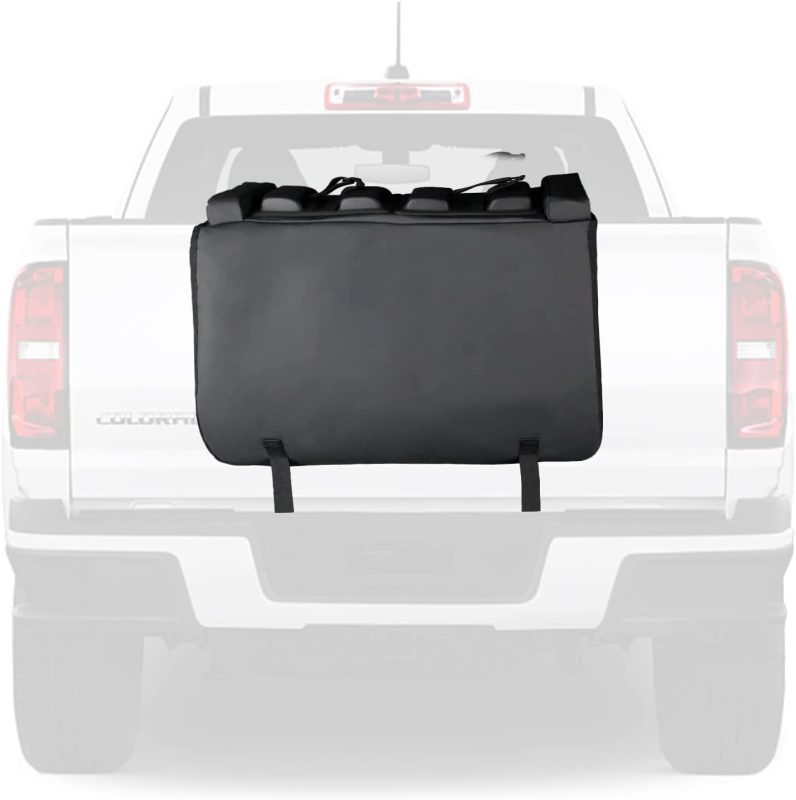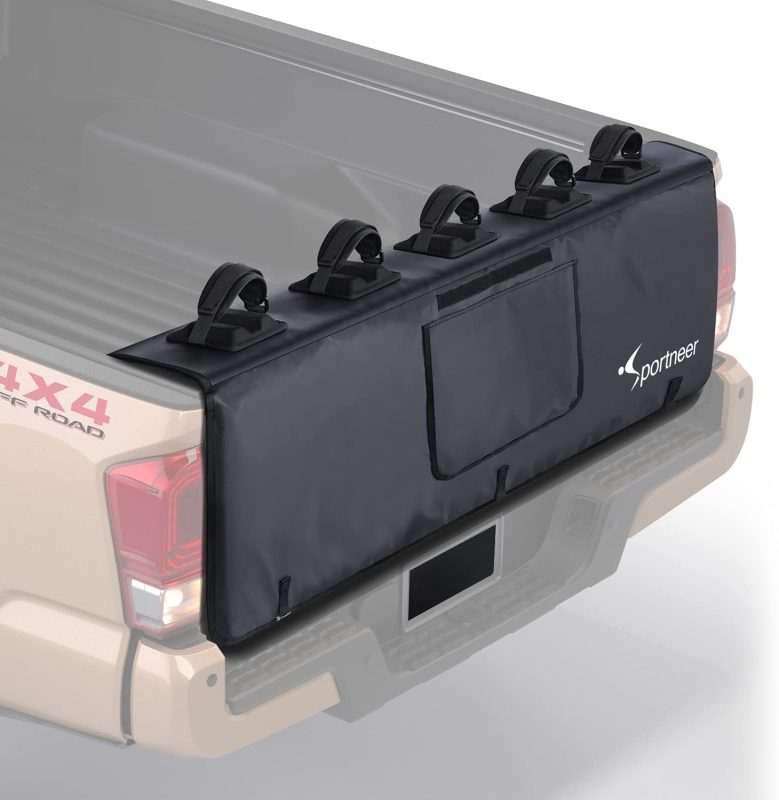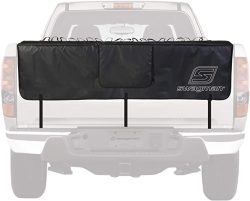 Tailgate Handle Access for your Bike Pad
Don't over look this feature. Having access to your tailgate handle is a major benefit to a bike pad for your truck. Almost all quality tailgate covers will come with one of these openings. You want to look for one that is secure to make sure the dust is kept out. We recommend looking for one with a magnetic or velcro option for securing.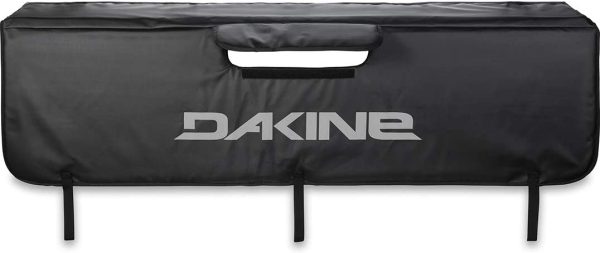 Tailgate Pad Securing Hooks or Straps
When looking at how your bike pad will attach to your truck it is important to think about how often you will be taking it on and off. If you plan on leaving the tailgate cover on for long periods of time a simple strap will work great for you. If you are the type of person that likes to take it on and off after each ride to protect the paint on their truck we recommend using a strap system with hooks for easy on and off removal. Evoc has a great system with hooks that are extremely user friendly.
Thickness of the Padding on the Tailgate Bike Cover
In this case thicker is not always better. You want to find a cover that has between 2-4″ of thickness between where your lower tube of the bike slides in. This is enough to keep your bike protected, while also limiting rubbing on your bike frame.

Best Brands of Tailgate Pads
There are a lot of options when it comes to the best tailgate pad for your truck. In our opinion you cant really go wrong if you are trying to protect your bike and truck as long as you stick with the big 4 brands. Dakine, Fox, RaceFace and Evoc all offer great tailgate pads and are priced competitive. When looking into each of these brands it is important to read reviews and look to see if anyone with your vehicle has used the tailgate cover your want to see the fit. Below is a little more about each of the brands and their most popular truck tailgate pads.
Dakine Tailgate Pad for Bikes
Dakine is one of the most popular brands in the outdoor industry and they also make some of the best tailgate covers too. Below is are some of the most popular Dakine Tailgate Pads right now.
RaceFace Tailgate Pad
Raceface and biking go hand in hand. They produce a large number of biking products and their tailgate pads are some of the best hands down. In our humble opinion they are the best at keeping your bike from rubbing on each other while being transported. Below is a list of the most popular RaceFace tailgate pads right now.
Fox Tailgate Pad for Bikes
Fox tailgate pads are know for their toughness and durability, but they are also one of our favorites to recommend. With fox you have a company with years and years of industry experience as well as being backed by a great warranty. A fox tailgate pad will not only do a fantastic job of protecting your bike, but will keep your tailgate from getting scratched up or getting wear marks.
Evoc Tailgate Pad
Evoc Tailgate pads will round out our top brands. They make a fantastic product with incredible service. Their tailgate covers are perfect for any truck and they offer tons of sizing options to get the best fit for your vehicle. If you are looking for a great option out side of the big 3 brands you should look into Evoc tailgate pads.
Shop All Tailgate Covers
Final Thoughts Tailgate Bike Pads
We hope you enjoyed this list of the best bike pads for tailgates for your next ride. Leave us a comment below letting us know how you think we did with the tailgate bike cover referrals. Did we miss your favorite backpacking chair?
As always thanks for taking the time to check out our outdoor gear guide. At Online Outdoor Outlet we are here to help you escape to the outdoors with the best gear to keep your bike safe on. Having the best bike pad for a tailgate will make your next ride more relaxing knowing everything will arrive safely. Hopefully, this guide helped you find the a new bike tailgate pad. Please share this post with your friends and family before you leave us. As they say, the more, the merrier! Happy Adventuring!
Make sure to follow Online Outdoor Outlet on all of our social channels for weekly updates!
Back to Gear Guide
All Products in this blog can be found on Amazon.