Summer boating trips are always circled on our calendars here at Online Outdoor Outlet. One of those reasons is for the endless hours we spend pulling a tube behind the boat. There is just something about pulling someone as fast as you can while trying to throw them through the air that just brings a smile to our faces. In this gear guide blog we are going to highlight some of the best boating tubes and towable tubes for boating. We will cover what you should look for in a boating tube as well as our favorite tubes for one, two, or three plus riders.
View All Boating Tubes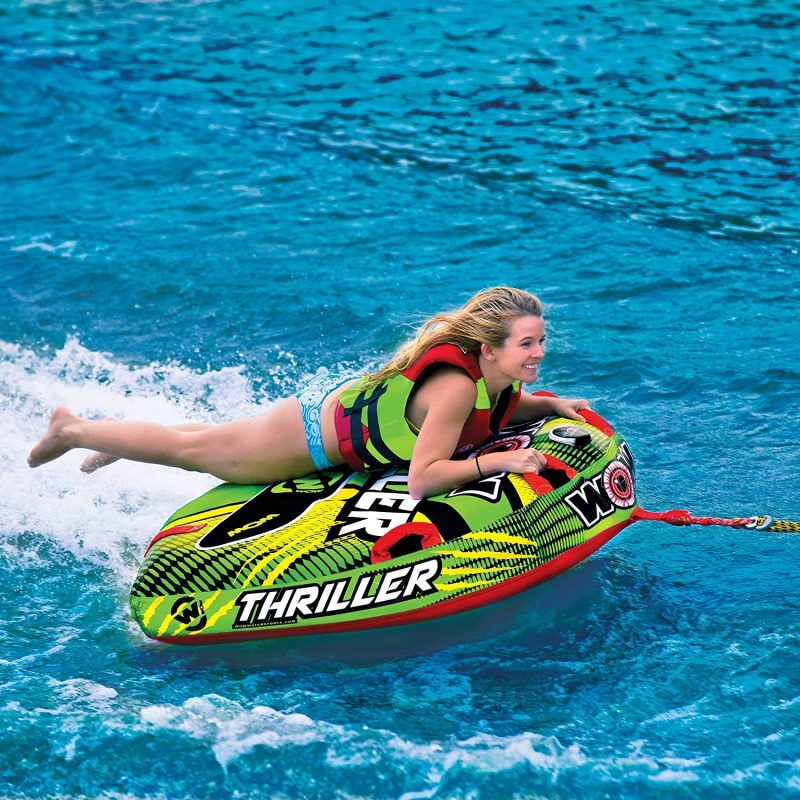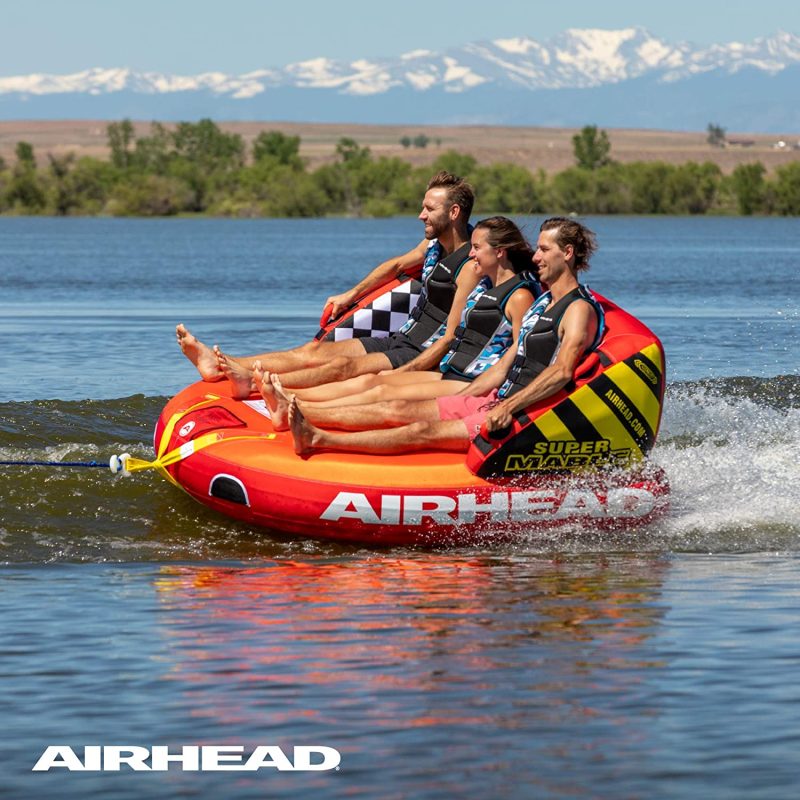 What to look for in a Boating Tube
Boating tubes are one of those things where quality of the product really matters. You need a tube that can stand up to the test of high energy circles of deaths as well as offer that nice smooth ride. Having a tube fail for what ever reason is a real day killer and could possibly cause an injury. A high quality tube will have an outer nylon shell with some sort of padding and a strong multiple chamber PVC bladder.
Towable Tube Covers
When looking at a boating tube you should always inspect the cover. High quality covers will come with padding in all the right places offering comfort over long rides. 420 Denier Nylon is a great choice for a cover, but if you can find 840 Denier Nylon you know you have the good stuff. The seams on the nylon cover should be double stitched and have a raised feel to them. They should also offer a way to remove the PVC bladder completely for realignment and minor repairs.
Knuckle Guards and Padded Handles
You want to look for a tube with padded handles and knuckle guards for extended fun on the water. Thew will keep your hands from getting sore or painful after a ride. Knuckle guards are often over looked, but they keep your hands from hitting the body of the inflatable tube. If these are missing you will get scrapes and bruises on your hands.
Towable Tube Bladders
Most boating tubes will come with some sort of PVC bladder chamber. The highest quality bladders will have 3+ chambers and be made of 30 gage PVC with welded seams. While there are benefits to single chamber tubes such as faster inflate and deflate times they also require more attention throughout the day. We always look for multiple chambers even in our single rider boating tubes.
Best Tubes for Boating & Towable Tubes
How Many People Can Be Towed In a Boating Tube?
All towable tubes should come with a rider rating listing the number of riders who can safely be pulled. Most inflatable boating tubes will list riders from 1 – 4 and in some cases with extremely large towable tubes you will see up to 8 riders. More importantly the safety rating will also come with a maximum weight for the tube. Following the weight rating for a tube is essential to the safety of those being pulled and failure to do so can result in serious injuries. With that being said here are some of our favorite tubes for different rider counts.
Best Towable Tubes for 1 Rider
Whether you are looking for excitement or just a comfy ride across the lake towable tubes for one rider can be a ton of fun. When looking at boating tubes for one rider most people look for a disc shape inflatable tube where the rider is on their stomach. This style of riding is usually fast and exciting. You can also find a more relaxing ride by finding one with a comfy back rest and padded top to sit on. This style of tube is usually the safest choice for those who prefer safety over adrenaline. Below are some of the most popular single rider boating tubes.
Best Two Person Towable Tubes
Towable tubes for two riders is very similar to single riders. They come in lots of shapes and sizes for you to chose from. If you are looking for that excitement or just comfort you can find it in a two person tube. For that fast paced action with lots of turns we recommend a tube that is wider for increased stability. If you are looking for a ride to take the little kids on we recommend a sit in tube with a divider between the riders for increased safety. Below are some of the most popular 2 person boating tubes.
Best 3 Person Towable Tubes
Three person tubes are by far the most popular. They have enough room to get people out for multiple rides through out a day and don't add too much weight to slow the boat down. Three rider tubes also allow you to play fun tubing games like king of the tube and last rider standing. When looking at the best 3 person towable tubes we alway recommend tubes with lots of handles and designed to sit down. This style of boating tube offers the best surface area keeping the tube riding high in the wake. You should also look for a tube that is wider than long to increase the speed the boat can pull the tube at. Below are some of the most popular 3 person boating tubes.
Best Large Towable Tubes (4-8 Riders)
For those looking for a party tube look no further. For the best large towable tubes you want to make sure there are lots of handle and at least 3 different air chambers. Large boating tubes take a beating and usually require a little more up keep over time. You will want to look for a tube with a maximum weight capacity above 600 lbs to ensure durability. Below are some of the best large water tubes.
Common Tubing Question:
We get asked questions about tubes almost daily. Below are some of the most common questions we get with answers.
What is a Booster Ball and does it Help?
A Booster Ball is attached to the tow rope between the boat and the tube. It helps to boost the performance of your boat and tube by keep the slack in the line out of the water. These can also prevent water from the rope to spray on the tubers when the line snaps tight.
What is the Best Towable Tube Rope Length?
Most Tow ropes for tubes are designed to be low stretch and are extremely strong. When you are looking for a tow rope you should look for a rope that can handle the number of riders for the tube. The over all length of your tubing tow robe should be between 50 – 65 feet. Find a Towable Tube Rope.
Can you Patch a Hole in a Towable Tube?
This on is easy, YES. There are tons of different style of patch kits available for towable tubes. Below are a few that might work for you!
View All Boating Tubes
We hope you enjoyed this list of the best towable tubes and boating tubes for your next adventure toe the lake. Leave us a comment below letting us know how you think we did with the boating tube gear referrals. Did we miss your favorite Tubing gear?
As always thanks for taking the time to check out our outdoor gear guide. At Online Outdoor Outlet we are here to help you escape to the outdoors with the best watersports gear. Having the best tubing gear will make your next adventure more fun. Hopefully, this guide helped you find the towable tubes. Please share this post with your friends and family before you leave us. As they say, the more, the merrier! Happy Adventuring!
Make sure to follow Online Outdoor Outlet on all of our social channels for weekly updates!
Back to Gear Guides
All Products in this blog can be found on Amazon.