This week we are going to take a look at the best cornhole board sets for all levels of entertainment. Over the last few years, cornhole has become one of the favorite outdoor games and sales have been skyrocketing year over year. It doesn't matter your cornhole skill level it is still fun to spend time with your family and friends tossing corn-filled bags at boards with holes in them. Some of you may have even found yourself watching it on TV. For this comparison of the best cornhole boards, we looked at construction quality, price, durability, and customer ratings. Just like in everything we do here at Online Outdoor Outlet we started out with an unbias opinion put these Cornhole Board Sets to the test. Below are the results for the best cornhole board sets.
Let us know what you think about our choices in the comments below!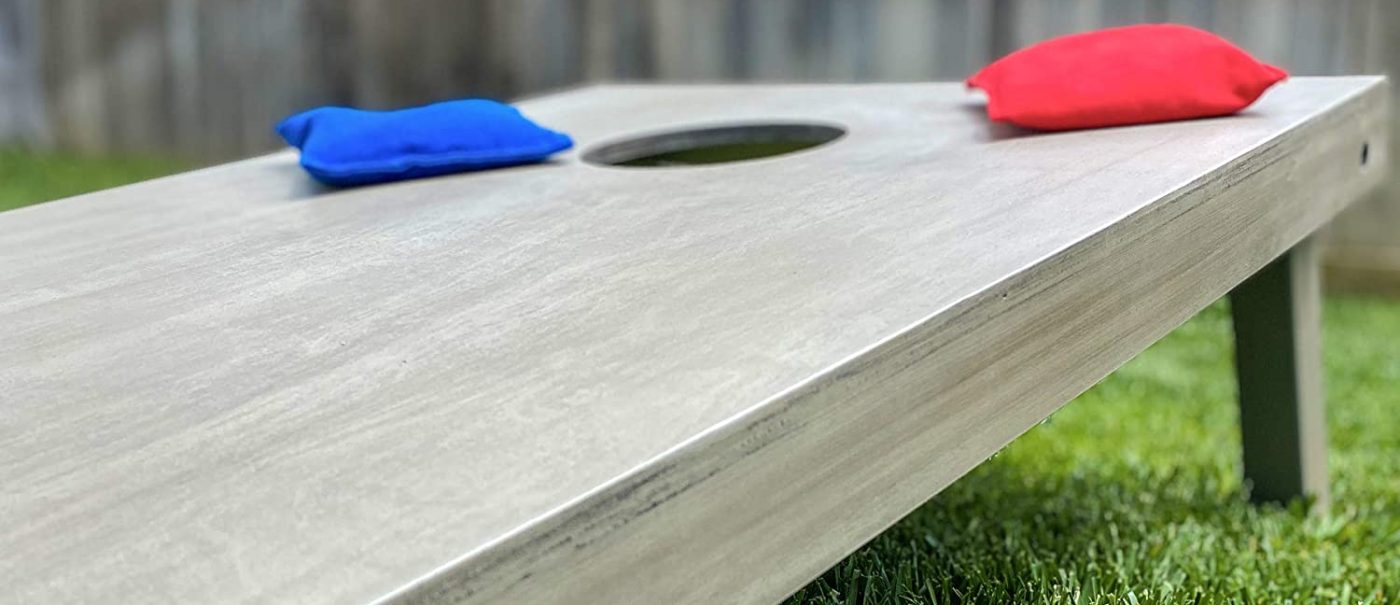 If you are looking for the best this is the one! There was no question after testing that the American Cornhole Association makes the best cornhole boards out there. This premium set comes with 2 solid wood boards and 8 regulation bags. Regulation size 4' x 2' wooden Cornhole board ensures you can enjoy your Cornhole games like a true American! The vinyl print is placed on top of 1/2' Baltic birch with a tote carrying bag for your cornhole bags.
The ACA official Cornhole boards and bags set is here to help you enjoy breath-taking matches against your friends and family! Perfect for outdoor parties and camping trips with your friends and family. Best of all it is a 100% USA-made cornhole board and bags set. What are you waiting for? Get your Cornhole set today!
You can't think about a new cornhole set without looking at Slick Woody'S Premium Cornhole Sets. These sets are made from Baltic birch, the smoothest and flattest plywood on the market. They use a proprietary process to adhere a vinyl layer on top of the boards, which offers consistent play no matter the temperature or humidity.
Slick Woody'S make this list of best cornhole boards because they are simply the fastest and smoothest boards out there. If you are looking for a premium cornhole set this is your option. The designs are second to none setting the highest of standards to make sure that every design is unique and eye-capturing. Every board top is printed with UV-protected ink so that the image will not fade, no matter the weather.
Every cornhole set includes 2 regulation cornhole boards, 8 regulation color contrasting corn-filled bags, and the Slick Woody's Promise to more than satisfy your needs as a customer.
GoSports Cornhole Board set makes this list for the best value cornhole set on the market. These cornhole board sets are built to last with Premium handcrafted cabinet-grade plywood and feature mitered corner joints for authentic gameplay. They feature a light stain on natural wood grain that gives this set a stylish look that captures the timeless fun of playing bean bag toss with friends and family.
You can customize your set with your own choice of premium all-weather color bean bags to match your favorite sports team, holiday colors, alma mater, and more!
If you are looking for a custom board we have your solution! All you need to do is add your logo through a simple upload to the Professional Red Zone Cornhole Boards. The ACE Red Zone cornhole board set is made of a 3/4 inch Baltic Birch just like those you see on TV. These boards are very heavy and durable creating the best professional tournament-style cornhole boards in the industry. You don't have to worry about them moving around while in the middle of the game.
The boards are direct UV printed for the best-looking print & graphics in the industry. These cornhole boards have at least 2 coats of water-based polyurethane that provides an excellent playing surface minimizing the chance of your bags kicking and helping prevent the boards from becoming sticky during humid weather conditions.
The Briever Solid Wood Cornhole Set is a fantastic mid-price point option! It is made of 100% solid wood with collapsible legs and cross brace support and premium framework structure. These top-of-the-line craftsmanship boards are varnished with vintage flag graphics by the latest heat-pressing technology, providing a durable layer to protect against scratches and fade. Each Briever Cornhole Board Set is regulation size (4′ X 2′) and comes with 8 very durable bags. One of the selling points on this set was the carrying handles. Each hemp rope handle is with a soft tube, so it's easy to pick up anywhere and protect your hands from pinching. There is no setup required with this ready-to-play cornhole set right out to the box.
The Cornhole Solutions Tournament Grade Board is another excellent option. These sets make the list of best cornhole board sets for so many different reasons. They are built using Premium 3/4′ Baltic Birch Plywood for the Tops and Frames. The Boards are Regulation 4ft x 2ft Size and are ready for Tournament Play right out of the box. No Assembly Required! Each set comes with a High-Quality Carrying Case made from Heavy-duty Canvas guaranteed never to tear.
Cornhole Solutions Tournament Boards come with Rounded Edges all the way around the Board, Built-in Handles on both sides of the Frame makes carrying the board Easy and Painless, and Two Support Braces on the back of the board prevents all bounce! The board set comes with 8 All-Weather Cornhole Bags filled with High-Quality Resin Pellets meaning no need to worry about mold or rodents. The bags can be easily be cleaned with water.
Tailgating Pros has been in the Cornhole manufacturing business for 10 years. Their focus is on providing as many options as possible to meet the needs of every Cornholer. Whether you are a novice or professional, they have a product that can exceed your expectations without breaking the bank.
Each cornhole board is regulation size and is constructed from 100% Premium Wood. Weighing in at only 15 pounds each they can be transported easily with the Carrying Case. They're ready to be played without the box and have a supporting crossbar to prevent bounce. The Images are Printed Directly onto the Boards. Never Worry about Vinyl Decals or Wraps Peeling or Tearing! Each Set comes with 8 Regulation Size Cornhole Bags filled with 15-16 ounces of Whole Kernel Corn. Made with Heavy Duty 12 oz Duck Canvas & Double Stitched for Extra Durability.
EastPoint Sports has the perfect cornhole board set. It is regulation size and strength without all of the weight or the price tag. They offer a sturdy, rugged board construction that makes this bean bag toss game durable and folding beanbag return ramps for convenient fast-paced play. The perfect option for hours of backyard or camping fun. Each Cornhole set comes with 2 wood boards and 8 official size and weight bags. They offer easy transportation with arope carrying handles and inner storage compartments for convenient storage and travel. This is a great option for those who are less competitive and looking for the good times cornhole always provides.
BackYardGamesUSA makes truly Premium cornhole set at a premium price. They come with 2 regulation handcrafted boards and regulation size bags. They also have the option to customize your boards with an image or logo of your liking. Handmade quality craftsmanship like no other they are made with cabinet grade 5/8″ Baltic birch wood for smoothness, stability, and strength. These are heavy-duty boards that will last. No assembly required…simply fold out the legs and you're ready to PLAY!
Viva Sol rounds out our top 10 Cornhole board sets. They are Constructed from 100% wood and steel to endure the punishment of years of use from family and friends. You can take Viva Sol cornhole sets anywhere with easy-carry handles. The set features beautifully designed 2′ x 4′ premium all wood targets with a popular veneer, walnut finish, and solid pine wood frame. Its thick metal legs add stability and style to your target, and a portable and compact design allows for easy storage and transportability. The set includes premium all wood targets and all-weather canvas bean bags.
Are you looking to bring an added challenge to your cornholing? Check out the Warphole Curved Cornhole Set! The patented 4-zone curved game creates a whole new playing experience and is fun for the entire family. Warphole is crafted from premium woods, built using pocket hole joinery, and finished with superior exterior wood protectant. All Warphole Game sets include 2 high-quality boards, 8 water-proof cornhole bags (resin-filled), and one Warphole branded tote bag.
Warphole is 100% curved. 100% Awesome. 100% Next Level!
Looking for more Cornhole Board?
We hope you enjoyed this list of the best cornhole board sets for your next adventure or party. Leave us a comment below letting us know how you think we did with the rankings. Did we miss your favorite Cornhole boards?
As always thanks for taking the time to check out our outdoor gear guide. At Online Outdoor Outlet we are here to help you escape to the outdoors with the best gear. Having the best cornhole sets will make your next adventure more fun. Hopefully, this guide helped you find the best cornhole boards. Please share this post with your friends and family before you leave us. As they say, the more, the merrier! Happy Adventuring!
Make sure to follow Online Outdoor Outlet on all of our social channels for weekly updates!
All Products in this blog can be found on Amazon.