For this week's blog post we wanted to take a look at a surging trend in the cooler industry and rank our favorite coolers with wheels. Just like in everything we do here at Online Outdoor Outlet we started out with an unbias opinion put these coolers to the test. Below are the results for the best coolers with wheels. We have also included a couple of bonus products at the bottom to turn any cooler into the perfect wheeled cooler.
Let us know what you think about our choices in the comments below!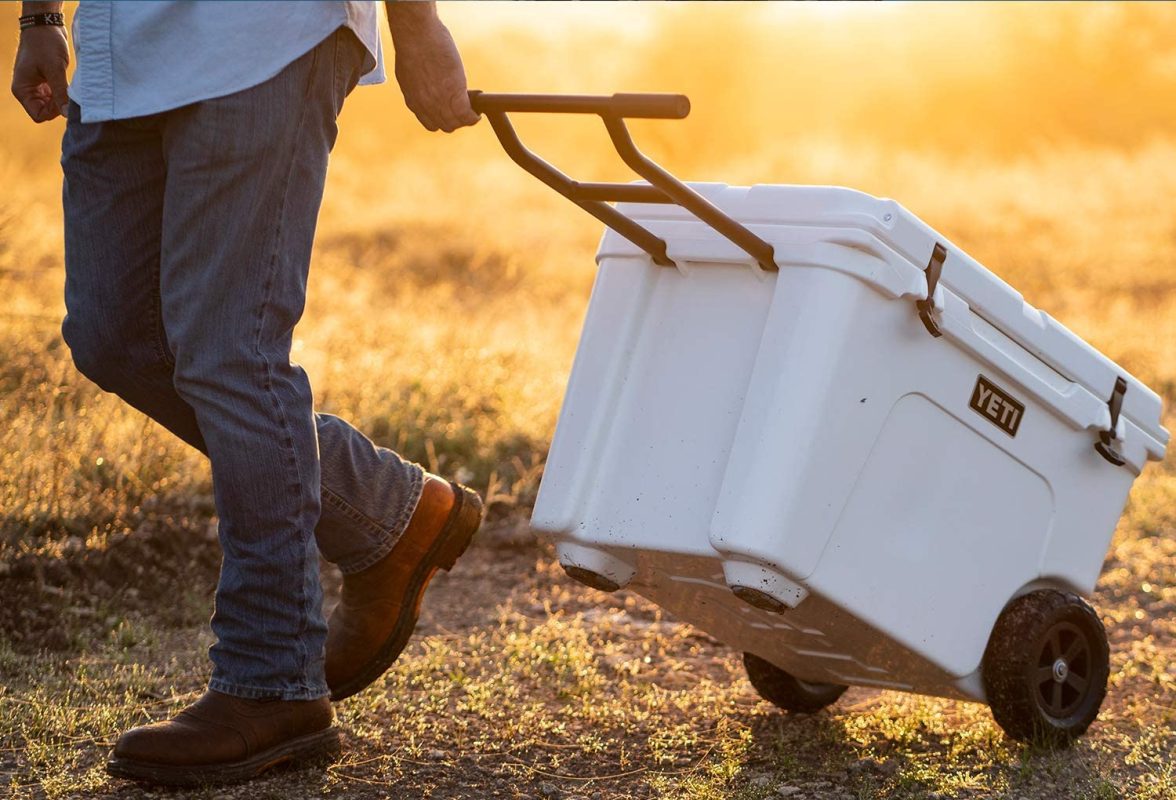 The Pelican Elite 45Qt cooler is tough enough to get any job done! If you have a big adventure coming up, a week-long camping trip, or an extended excursion into the backcountry you are going to want the best cooler available. You want a cooler with excellent ice retention which is also easy to move around with you. One of these coolers will tick all the boxes on your list: long ice retention, easy to use, good mobility, and built to last.
Pelican Elite 45Qt Cooler Features:
45 Quart Capacity
Up to 10 days ice retention
Built-in Bottle Opener
Press & Pull Latches
Molded-In Tie Downs
Non-Skid & Non-Marking Raised Feet
Molded-In Lock Hasp, Stainless Steel Plate
Sloped Drain & Tethered Threaded Plug
Corrosion Resistant Stainless Steel Hardware
Integrated Fish Scale on Lid
Molded-In handles with built in trolley handle
Made in the USA
Party anywhere you want with the ultimate all-terrain cooler, featuring the kind of built-tough mobility that can traverse in all kinds of conditions. The Igloo Trailmate is truly a one-of-a-kind cooler with wheels up for any challenge. From grassy fields to beach dunes, from dirt roads to wooded trails, you're in good company with the Trailmate Journey.
Igloo Trailmate Journey Features:
Oversized Wheels — Tackle sand and other challenging terrain with the superior traction.
Butler Tray — Serve up drinks and snacks away from sand and dirt on our removable butler tray.
Dry Storage — Our Trailmate comes with a lockable box fitted with an anti-leak gasket.
Storage Pocket — Stash your shades, sunscreen and other essentials easily and securely.
Food Basket — Suspended interior food basket keeps food items cold yet dry.
Cup Holders — Keep your cold ones secure and always in arm's reach.
Ultratherm — Fully insulated for advanced cooling performance.
Meet the original YETI Tundra with wheels. YETI was an innovator who created a whole new category of coolers with legendary toughness and famed ice retention. With these oversized wheels, the YETI Tundra Haul can get your cold beverages anywhere!
YETI Tundra Haul Features:
T-Rex Lid Latches
Certified Bear-Resistant FatWall Design
ColdLock Gasket
LipGrip Handles Stay out of the way
DoubleHaul Handles
Rotomolded Construction
BearFoot Non-Slip Feet
Vortex Drain System
PermaFrost Insulation
InterLock Lid System
AnchorPoint Tie-Down Slots
We recommend the Blue Cooler 55Qt Ice Vault for their industry-leading 2″ of insulation with ice retention for up to 10 days. This is the perfect ice chest for camping, traveling to the beach, outdoor activities, family barbecues or just to keep your drinks cold on your front porch. This cooler makes the list for best coolers with wheels for more than what it rolls on. It includes non-skid feet, a lockable lid, a freezer-style gasket, sure-grip handles, a rapid drain system, and much more.
One of the biggest coolers on our list comes from Frosted Frog. These coolers are built with thick commercial grade installation giving you the ice retention you need for extended trips. It offers extremely durable solid rubber wheels for reliable transportation across any terrain. Don't sleep on Frosted Frog Coolers when it comes to quality and price.
The Igloo 110Qt Glide Pro Cooler with wheels is our best value on the list. You get the quality you would expect from Igloo and it is at a price point to fit anyone's budget. The Glide Pro offers 5 day Ice retention for up to 168 cans! You can't miss the horizontal telescoping handle that requires 50% less lifting effort, Soft-ride wheels for easy transport and, a cushion grip handle for comfortable towing.
The Driftsnu 70Qt Wheeled Cooler was an easy choice for the list! It offers all the benefits of a Driftsun Ice Chest in one easier to transport, rolling package. Driftsun Ice Chests are known for their 3 inches of commercial-grade insulation that retains ice for days and now comes in another highly useful feature – built-in wheels for easy transportation. No need to struggle to lift or lug around a heavy ice chest when you can simply wheel it wherever life takes you.
Keep your food and beverage cold and make the fun last longer, when you roll in with a Coleman 62 Quart Xtreme 5 Wheeled Cooler. The Xtreme technology uses an insulated lid and extra insulation in the walls to keep your items cold for up to 5 days. Large enough to hold 95 cans, you'll have plenty of space for refreshments for the whole gang. Whether you're headed on a long weekend camping trip, a road trip, or across the ball field, the heavy-duty wheels and large tow handle let you roll over almost any terrain with hardly any effort.
Nurxiovo is one that surprised us with this challenge. This cooler has a great price point for most budgets and offers up to 7 days of ice retention. When you need a cooler to perform for any outdoor adventure this is a great option. The Nurxiovo 75Qt Cooler offers heavy-duty wheels, Ultra-sturdy design, and materials, suitable for all kinds of natural weather and dangerous creatures.
Rounding out our list of best coolers with wheels is the Coleman 50Qt Cooler with wheels. This is our choice for the everyday cooler. You can easily transport cold food and beverages across most terrains with this Wheeled Cooler. Perfect for sporting events, picnics, or any outdoor activities, this wheeled cooler box comes equipped with two heavy-duty wheels that make transportation easy even when filled to the brim. Just extend the handle, close the hinged lid, and wheel the cooler wherever you need to go. Premium insulation along the lid and walls helps ensure your items are kept cool, delivering ice retention for up to five days at temperatures up to 90 degrees Fahrenheit.
Bonus Wheel Systems for Any Coolers
As promised if you made it this far the solution is to turn any cooler into a rolling beverage distributor. SHERPA Outdoor Products offers a variety of options for YETI, RTIC, Kong, ORCA, Grizzly, Engle, and Rino Coolers. Check out the options below to find the setup that fits your cooler.
YETI, RTIC & Kong Coolers
ORCA, Grizzly, Engel & Rhino Coolers
Looking for more Coolers?
We hope you enjoyed this list of the best coolers with wheels for your next adventure. Leave us a comment below letting us know how you think we did with the rankings. Did we miss your favorite ice chest with wheels?
As always thanks for taking the time to check out our outdoor gear guide. At Online Outdoor Outlet we are here to help you escape to the outdoors with the best gear. Having the best cooler with wheels will make your next adventure much easier. Just because you have a cooler load down with your favorite drinks and snacks doesn't mean you need to pack it. Hopefully, this guide helped you find the best ice chest with wheels. Please share this post with your friends and family before you leave us. As they say, the more, the merrier! Happy Adventuring!
Make sure to follow Online Outdoor Outlet on all of our social channels for weekly updates!
All Products in this blog can be found on Amazon.