Snowshoe sizing can be hard to understand for even the most experienced people in the outdoors. We have noticed a large increase over the past years of avid hikers looking for something to do in the winter. Our recommendation is always to give snowshoeing a chance and for good reasons. Snowshoeing is a great activity for exploring and getting that much-needed winter exercise. Snowshoes are an absolute necessity when it comes to winter hiking, and will help you cover distance effectively, safely and, effortlessly. The most common mistake we see is people purchasing the wrong size snowshoe or the wrong style of snowshoe for their conditions. In this article, we will cover how to make the decision for the right snowshoe size with a snowshoe sizing chart and style for your next winter adventure!
There are a lot of factors to consider when buying snowshoes, and you might be lost among the options available. In this comprehensive snowshoe sizing and buying guide, we will give you a quick run-down to find the ideal snowshoes according to your weight, purpose, budget, and discuss snowshoe sizing and styles fit for each scenario.
After checking out our snowshoe sizing guide make sure you check out our selection of top-rated snowshoes for all abilities and conditions.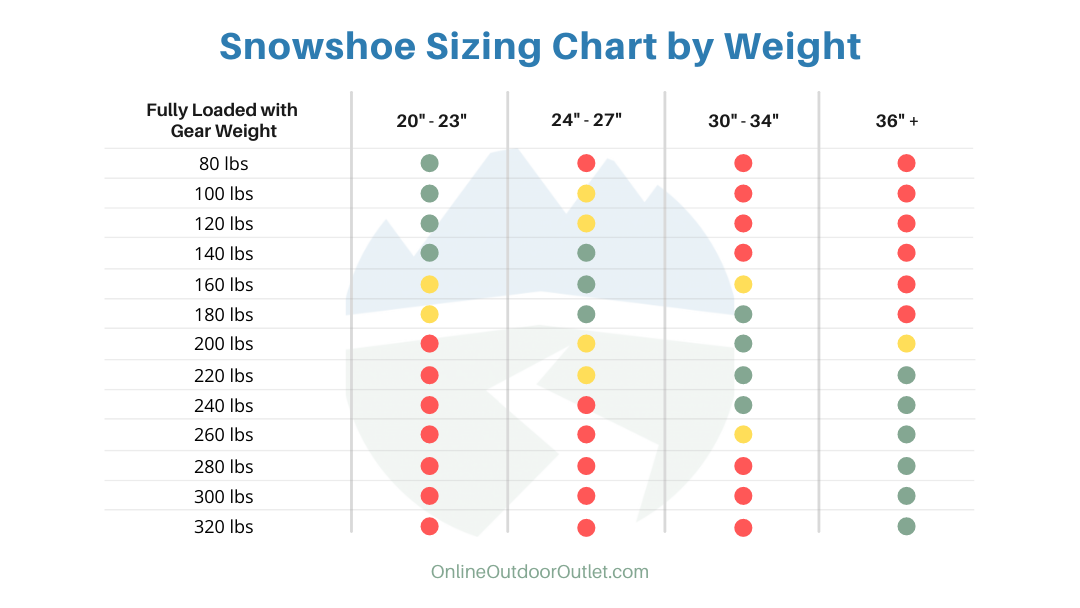 Snowshoe Sizing Chart for Your Weight
#1 Questions we get asked about snowshoes is: What is the Right Snowshoe Size for my Weight?
As a general rule of thumb, the bigger/heavier a person, the longer snowshoe he/she should consider. Longer snowshoes cover more surface area and will give adequate flotation on snow, however as the snowshoe size increases it gets harder to handle. That is why it is a good idea to get the smallest snowshoe rated for your weight. Referer to the snowshoe sizing chart above to find the best size of snowshoe for you.
Calculating Your Snowshoeing Weight
While calculating your snowshoeing weight, you need to take into account what you will be carrying to get an accurate fit for your comfort. While looking at snowshoes to buy, there is always a recommended maximum weight on the product specification, and you should never exceed the weight they are rated for. In most cases, while it won't pose any serious threat, it will definitely impact your comfort and flotation which would make your hike more tiring.
The snowshoe sizing chart above can be used as a reference to snowshoe length according to the user's fully loaded weight. After looking over the chart check out our selection of snowshoes at Online Outdoor Outlet.
How to Choose the Right Snowshoe Style for Different Terrain?
While considering the ideal size of the snowshoe to pick out for your journey it is imperative to first consider what type of terrain you would be dealing with. There are generally three types of terrain snowshoes cater to:
Snowshoeing on Flat Terrain
These kinds of snowshoes are aimed towards the more casual user who would be using them on less challenging terrain. They are usually very cheap as compared to other kinds of snowshoes and do not feature any heal lifts as they aren't meant to be used on steep slopes.
The binding systems on these are also relatively simple and easy to use. They will however provide good traction on flat terrain and should be fine for a short hike.
Online Outdoor Outlet Top Pick for Sowshoing on Flat Terrain
Snowshoeing on Slightly Sloped Rolling Terrain
These types of snowshoes are generally a hybrid between the more advanced mountain terrain snowshoes and the flat terrain beginner snowshoes. While a bit pricier than the flat terrain snowshoes, they provide excellent value in terms of their useability in different terrains.
Rolling terrain show shoes have moderate crampons for good traction and have a sturdier binding solution. Most rolling terrain models also feature a heal lift for slightly steep slopes, however, they are not meant to be used on ice. These are a good pick for people who are just getting into hiking and intend to start hiking more on different kinds of terrain.
Online Outdoor Outlet Top Pick for Snowshoeing on Rolling Terrain
Snowshoeing in Mountain Terrain
Lastly, mountain snowshoes are the kind of snowshoes aimed towards the more advanced user, these are meant for steep, icy slopes, and come at a premium cost. Mountain snowshoes feature a very aggressive crampon solution to ensure the best traction, come with different kinds of heel lifts, and usually have a great binding solution to go along with them.
However, as mentioned earlier these types of snowshoes are meant for mountain climbing and don't really provide adequate flotation on powder snow.
Online Outdoor Outlet Top Pick for Sowshoing on Mountain Terrain
Snowshoe Sizing Bouns Category: Snowshoes for Trail Running
These types of snowshoes are lightweight, narrower, and have asymmetrical shapes to aid in running on packed snow. Naturally, these types of snowshoes have lesser floatation, due to their smaller footprint.
These types of snowshoes shouldn't be used on more challenging hikes and are only fit for someone trying to keep up with their training routine through winter. They should never be substituted for actual snowshoes as the asymmetric shape and less flotation might cause you to slip and hurt yourself in difficult terrain.
Online Outdoor Outlet Top Pick for Trail Running Snowshoes
Snowshoe Size for Different Conditions?
The type of snow you will be traversing on is another important factor to consider while picking out your snowshoes, choosing the right type based on the conditions will keep you afloat on your journey. In most cases, there are really only two types of conditions you need to think differently about when it comes to snowshoeing.
2 Types of Snowshoeing Conditions
Powdery snow shifts a lot more than wet snow; As a result, smaller snowshoes will tend to sink and slip more. Bigger/Longer snowshoes are great for dense snow, providing the most flotation. After a fresh dumping of snow, we always recommend going with at least one size bigger snowshoe.
Icy and wet snow is more stable than powder snow and traversing is easier using smaller snowshoes. A smaller size of snowshoe will also be great for traveling narrow or brushy trails. We recommend using a smaller size snowshoe when on icy or wet snow to help you cover more distance with less effort.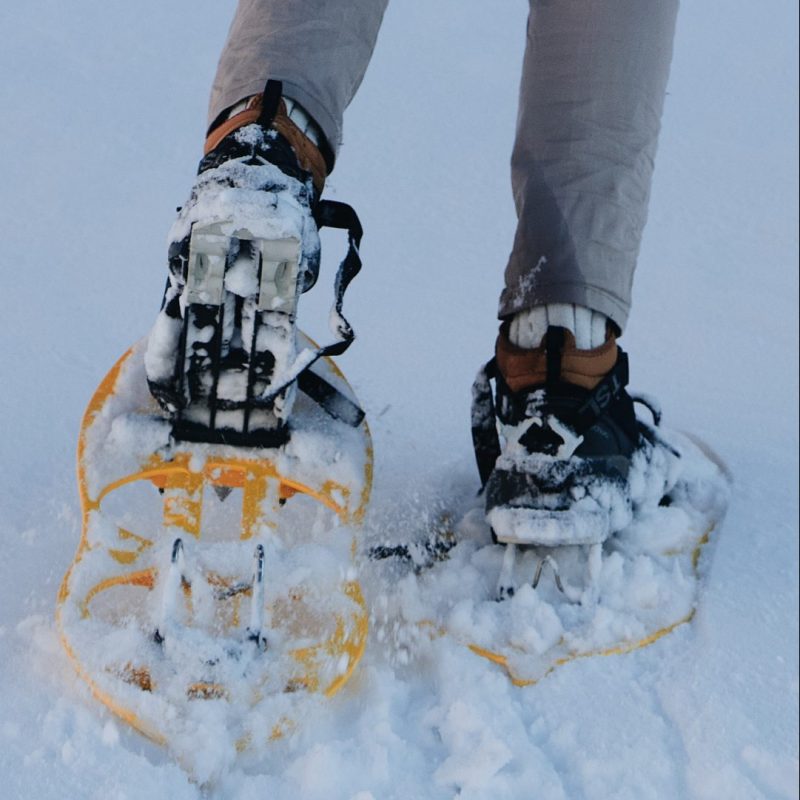 Snowshoe Materials to Choose From
Snowshoes have slowly evolved with the passage of time, and they are no longer made from primitive materials like animal hides and wood. While buying snowshoes in the modern day you have a lot of options of what material you choose.
These days the more premium snowshoes come with a metal outer frame with a synthetic deck (the part where your shoes rest inside the frame). These types of frames feature serrations on the bottom to give you more traction and are not particularly loud while walking. The upside to this design is that since the material flexes as you walk it feels more natural and fluid.
Another popular choice of material is plastic, while it is not as quiet, flexy, or natural feeling as their metal competitors they make up for it in their low cost and durability. These are great for beginners who just want to get started with snowshoeing without shelling out a lot of money.
How to Choose Snowshoe Bindings
Snowshoes come with a variety of binding systems like straps, buckles, and many other ingenious ways to fasten them to your feet. Most snowshoes are created to fit a wide array of hiking and winter boots.
Snowshoe Floating bindings are one of the most popular choices for beginners because of their flexible net/mesh designs. They provide enough tension to make the snowshoe's tail lift as you walk, which makes walking on snow more effortless.
Snowshoe Hinged bindings have a pivot system that allows good movement in deep snow, they aid in kicking steps so they are great to climb over obstacles in your path. However, the caveat to these types of bindings is that walking backward is usually a hassle.
Snowshoe Heel lifts are bars that you can rush your heels on, these are especially helpful on longer climbs as they allow you to rest your calves mid-hike without having to slow down. They are also great for traction, and all premium mountain climbing snowshoes come with some sort of heel lift.
11 Tips for a Beginer to get into Snowshoeing
Correct Snowshoe Sizing = More Fun
Preparation is half the battle: Always pack suitable boots and socks for your journey.
Always dress up in layers, and pack some extra clothing in case something gets wet.
Never forget your gaiters, hats, and gloves on a walk.
Carry extra water and a small amount of nonperishable food with you on a hike.
Always prioritize staying warm and dry.
Never head out before checking your area's weather forecast and avalanche warnings.
Stay clear of closed down trails.
Always be mindful of your surroundings, and never go alone.
If you must go alone, tell someone about your plans beforehand and when you expect to be back from your hike.
Bringing along some outdoor gear like Flints, Firestarter kits, and survival knife is always a great idea.
That is a lot of information! Hopefully, this Snowshoe sizing chart and buying guide helped you discover and choose the best snowshoe size for you to kick-start your journey. Please share this post with your friends and family before you leave us for the snow-packed hills. As they say, the more, the merrier! Happy Snowshoeing!
Make sure to follow Online Outdoor Outlet on all of our social channels for weekly updates!
All Products in this blog can be found on Amazon.