In modern times where people are longing for a fun and engaging activity, many have discovered Fly Fishing. It's an outdoor recreation that challenges your skills and brings your fishing hobby to a new level while connecting you with the serenity of nature. Getting into fly fishing may be difficult for beginners at first, but there's no need to worry. In this guide to fly fishing for beginners, we are going to cover some of the basic gear you need to get started. There are a couple of ways and helpful gears that can support you in setting off your journey. In this post, we'll give you tips on how to choose the best fly fishing gear for beginners to make the most of your time as you are learning to fly fish.
Let's jump in and see what gear beginners need for fly fishing!

What Gear do Beginners Need for Fly Fishing?
Before running into the reel action, knowing the basic equipment is important to remember. You don't need everything all at once! Typically, fly fishermen and fisherwomen purchase gear as they go on trips over time. Although most of this equipment is certainly nice, you wouldn't need some of them as you begin your fly fishing journey. So, what are the basic fly fishing gears that you will need?
Some Flies
Polarized Fly Fishing Sunglasses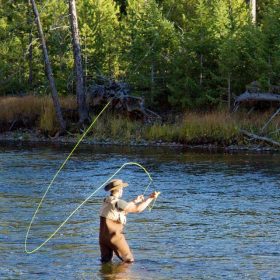 With these simple items, you can begin fly fishing and be successful with each trip to the water. 
But before all else, some words of advice to help you get started in fly fishing, invest a lot in your gear. Quality gear will help you have the best experience and performance so you are successful on the water.
Most problems we see happen when people purchase low-cost fly fishing gear and get upset when it doesn't perform well or quickly breaks. Take note that gears can be the determining factor whether a person quits or continues fly fishing. So, if you have the means of buying excellent quality gear which can last for a long time, you better go for it.
How to Find the Best Fly Fishing Gear
Like any other equipment, there are plenty of choices for buying the best fly fishing gear. These days, you can always find everything online and have it delivered straight into your home. But in all aspects, finding the right gear that suits your way of life and skills shouldn't be a hassle. So, if you're looking for the best quality items and equipment to kick off your fly fishing adventure, you have come to the right post!
We offer a large selection of Fly Fishing Gear for Beginners and Seasoned pros. Below we have broken down how to find the right gear to start fly fishing and also provide an easy link for you to check out each product.
Let's get started!
Fly Rods & How to Choose One
A quality Fly Rod is the most important piece of equipment you need in fly fishing. Although some people are mildly familiar with this gear, it is not that obvious what makes it fly fishing-specific. For instance, fly rods are also fishing rods, but they differ in many ways.
The major variance is that flying rods tend to be weight, flex, length, and load/action. Some people choose longer fly rods to keep them off the water, carry more lines, and give them some extra distance if they want.
Take note that rods vary in actions and weights. Weight refers to the size and strength of the rod. Choosing the right fly rod that's best for you will solely depend on how and where you plan to fish. With lower-weight rods, you can cast smaller flies and target small fishes, while greater weights can help you get bigger ones. The action also lies in the stiffness of the fly rod; that's why fast action rods are much less flexible when casting when compared with slow action rods. For beginners, we usually recommend starting out with a 9 Foor in a 4 or 5 Weight.
So, what are the best fly rods for fly fishing? Here are some recommendations:
Fly Fishing Reels & How to Choose One
Another gear that you will need in fly fishing is the reel. Fly reel typically carries the backing and fly line helping you control and bring in your fish. Modern fly reels are now made with machined aluminum alloys. They use an internal drag mechanism to apply pressure when capturing a fish.
Compared to spinning reels, fly reels are simpler, sleeker, and keep the line collected. It typically works on a single and direct drive with a 1:1 gear ratio, which means one rotation of your hand is equivalent to one rotation of the reel. In that sense, when choosing the ideal reel for you, select one that can hold the required amount of fly line and backing for the weight of the rod that you are fishing.
There are many more things to know about fly reels and how it works differently from the usual reels. But right now, you may have thought, what are the best reels for fly fishing?
Our Top 5 Best Fly Fishing Reels for Beginners:
Fly Fishing Waders & How to Choose Them
For most people, wearing fly fishing waders is not needed in fly fishing. It will not determine whether you will be successful or not in catching more fish in the river. However, waders can help you stand in the water comfortably and help you get access to hard fishing spots. It also serves as an essential gear to keep you warm during colder months by keeping the cold water off your skin.
If you plan on buying fly fishing waders, ensuring that your wader is breathable, lightweight, and has some soft layers underneath is an excellent option. But with lots of available waders that you can find in the market, you could have thought, "What are the best waders for fly fishing?".
Our Top 5 Fly Fishing Waders for Beginners:
Fly Fishing Vest vs. Packs & How To Choose One
Having a vest or a pack has always been a discussion for many fly anglers. If you're only a beginner, you might be torn or confused with what gear you should use. So, to give you an idea here's a brief explanation of the two.
Fly fishing vests are great for keeping all your gears. It usually consists of many pockets where you can store most of the items you need in fly fishing. If you're someone who prefers to have all items all close by when you need them, a fly fishing vest is a good match for you.
Our Top 5 Fly Fishing Vests for Beginners:
On the other hand, fly fishing packs are best known for their convenience and cheap cost. It is like a tiny duffle bag that brings all your necessities in one pack. You can store any of your tippets, fly boxes, leaders, or any other accessories here. Fly packs come in various styles; the popular ones go with chest packs, sling packs, and hip packs.
Our Top 5 Fly Fishing Packs for Beginners:
The choice will always be yours in the end. It always goes down to how convenient or easy you want your fly fishing experience to be. You can instead go with a vest or packs. Any of these two could be great gear to help you out carrying your items.
Fly Fishing Line & How To Choose One
The Fly Line is the weighted line that connects with a fly rod and reel. It is one of the most important items as it transfers the energy coming from the fly rod out the line, down to the fly to be presented to the fish. Fly lines come in many different styles. It differs between the technique, depth of presentation, and water type, among others. For beginners, you would want to start with a versatile line that can handle dry-fly and nymphing situations. Or you can try a weight-forward floating line.
What are the best lines for fly fishing? Here's are some suggestions:
What is a Good Gear Budget for Beginners Just Starting Fly Fishing?
The last question you want to ask yourself is what is my budget for all of this gear? It's no secret fly fishing is expensive and in this sport more than any other you get what you pay for! Our final recommendation is to spend money on a quality Fly Fishing Rod, Reel, and Line. These three items will be the largest factors in determining your success. All other items can be upgraded as you continue down your fly fishing journey. In the end, all that matters is you get out there fly fishing. Pick up those essentials and the rest will come over time!
That is a lot of information! Hopefully, this guide helped you discover and choose the best Fly Fishing Gear for Beginners that you need to kick-start your fly fishing journey. Please share this post with your friends and family before you leave us for the water. As they say, the more, the merrier! Happy Fly Fishing!
Make sure to follow Online Outdoor Outlet on all of our social channels for weekly updates!
All Products in this blog can be found on Amazon.