The art of relaxing is something we take very seriously! We have some truly professional sitters on our staff. Whether you are professional or not, there is nothing more relaxing than an afternoon nap in your favorite folding camp chair. If you are like any of us at Online Outdoor Outlet you spend a lot of time camping and relaxing. There is just something special about sitting in silence and relaxing that draws us to the great outdoors. Over the past year, we have been testing a few options, and let's be honest there are a lot of fantastic folding camp chairs. After all of our testing here is our list of the Best Folding Camp Chairs for You in 2021. Check out the list below and let us know what you think!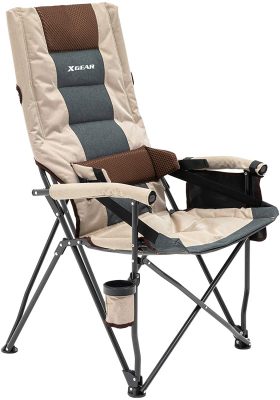 The XGEAR Folding Camp Chair is our Number 1 choice for the best folding camp chairs! It has a large seat area with 600D padded oxford fabric and a padded armrest to ensure comfort. Its extremely spacious ergonomic seat designed to align hips and back for maximum comfort and relaxation and excellent lumbar supportive design aligns your body posture to provide relief to your spine and ease tension throughout your back. Basically, you can sit for a really long time!
XGEAR Folding Camp Chair has a durable cup holder and armrest at the perfect height to allow you to relax in comfort. The side storage pocket holds a cell phone, notebook, maps, or whatever you can think of. It is easy to set up and fold in seconds as it collapses down to just 12.99″ x 48.03″ and weighs only 11 lbs. This outdoor chair is suitable for all your outdoor life, like hiking, camping, traveling, fishing, or watching sporting events.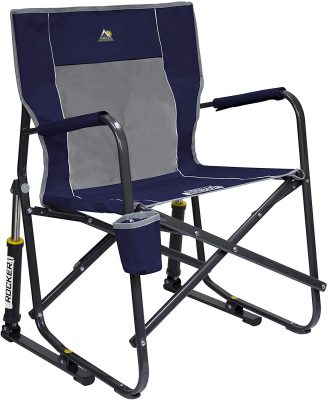 The GCI Outdoor Freestyle Rocker camp chair delivers a smooth rocking action on any surface in the outdoors. Featuring padded armrests, a built-in beverage holder, and a convenient carry handle, folding a rocking camp chair open and closed has never been easier or safer with GCI Outdoor's patented Eazy-fold Technology. No more pinching those fingers! The Freestyle Rocker is constructed of lightweight and sturdy powder-coated steel supports up to 250 pounds. This is the ultimate folding rocking camp chair!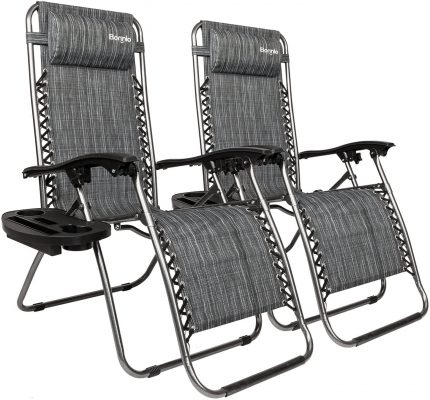 This set of 2 chairs makes our list for both comfort and value! Designed with comfort in mind, these reclining lounge chairs are made from all-weather Textilene sling fabric. The bungee cords that connect the Textilene seat to the sturdy steel frame help to enhance the comfort and function of the chair. The large Accessory tray contains two cup holders, very convenient to place your cup, drinks, phone, etc. It is super easy to fold up, occupy small space for easy carrying and storage, perfect for camping and hiking, or relaxing at the beach or yard. Our favorite zero gravity folding chairs and very deserving of being featured on the best folding camp chairs for 2021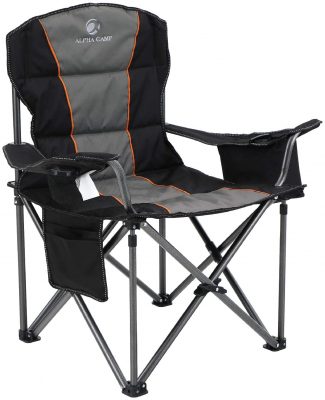 One for the big guys and gals out there! ALPHA Oversized Camping Folding Chair is overbuilt not overpriced. The large seat area with 600x 300D padded oxford fabric and padded armrest ensure the comfort of this chair. The hammer tone, powder coating prevents corrosion and fading. It is equipped with four heavy-duty steel frame was added to the bottom of the chair to support up to 450 lbs. No more worrying about a collapsing chair when you are near the fire. The durable mesh cup holder and armrest at the perfect height allows you to relax in comfort. This folding camping chair is easy to set up and fold in seconds. It collapses down to just 9.05″ x 38.58″ and weighs only 13.2 lbs.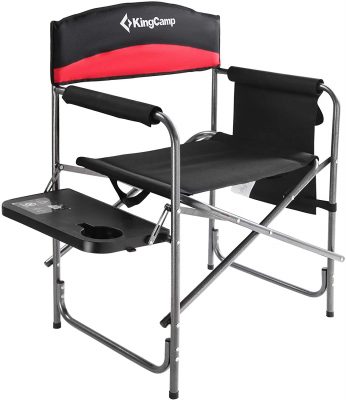 If you are looking for comfortable oversized director chairs this is the one for you. The King Camp Heavy Duty Folding Chair is made of a rugged steel frame and supports up to 396 lbs. The folding director's chair is comfortable and firm at the same time, great for camping, car traveling, fishing, tailgating, picnic, or the deck. It comes with a side table with a cup holder so you can relax with drinks and snacks at hand. The side storage pockets are a real plus as you can reach them with ease. It sets and folds in seconds, very easy to use and store; Packed Size 32. 6 × 19. 6 × 5. 5 inches with an easy to carry handle.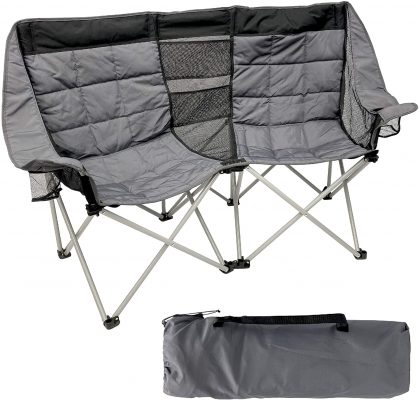 Enjoy your time while camping, this lightweight 2 position chair is one all campers will love! Rest your head on the adjustable plush pillow and place your arms on the padded wooden rests as you kick back in a position that will be relaxing and comfortable! Includes an attached cup holder for your drink. When you're ready to go, just fold up your camp chair and use the straps to conveniently carry it as a backpack. You get the best of both worlds with this camp chair that is comfortable to sit in and easy to transport and store.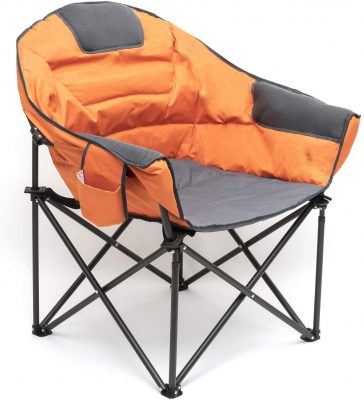 This fully padded and cushioned camp chair provides the ultimate comfortable seating experience. The oversized & moon-rounded design helps you to relax and enjoy your journey. Equipped with an attached cup holder frees your hands while camping, hiking, traveling, or watching sporting events, and easily store your drinks, sunglasses, and phone within hands' reach.
The sturdy steel frame construction affords up to 500 LBS weight capacity and the chair weighs just 14.5 LBS. You don't have to worry about heavy-duty use either as the SUNNYFEEL Oversized Club Camping Chair is built to last. Setting this chair up is effortless and fast. You only have to take it out from the shoulder straps attached carry bag and pull the frame apart, and … Ta-Da! Here you go – now you can enjoy this supreme comfy chair and easily transport to camp, lawn, concerts, and festivals.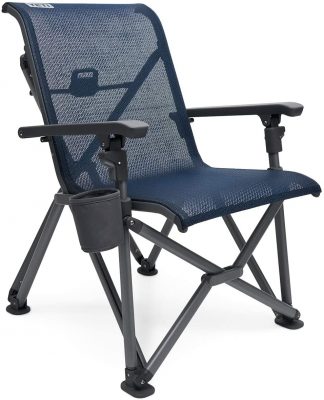 Instead of waiting around for a best-in-class camp chair to exist, YETI built one themselves. Some might say that you are paying for a brand name, but the truth is that this is one comfortable camp chair. This fireside, tailgating, concert-going mainstay is designed down to a science for unrivaled durability, hardcore comfort, and hands-free portability. Each leg is anchored with ultra-strong GroundGrip Feet primed for any terrain, while industrial-strength tensioners on the back and arms lock into place. This basically means, they stretched one big piece of innovative, UV-resistant, body-conforming fabric throughout the entire chair to completely eliminate pressure points …let that sink in. And when it comes to carrying it, your hands are off-duty. Just fold up the chair, slip it in its carry bag, and hit the road. Easy does it.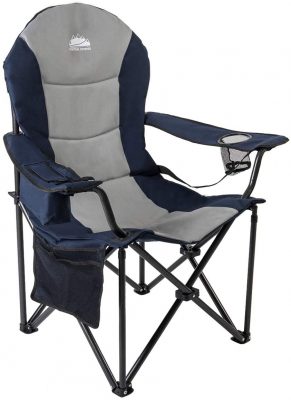 The Coastrail Outdoor Camping Chair makes our list for extreme comfort and value. It is the ultimate camp chair for people who suffer from lower back pain. It also has some really awesome features! The built-in cooler bag keeps your beverages cool making there no need to get up for another one when you have more under your armrest. The side pocket storage organizer hangs from the arm is a built-in convenient storage organizer for all of your gear. It has several pockets to keep things organized and separated. We would suggest you give this one a try for your next camping trip.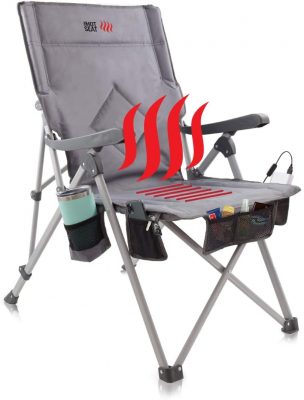 To round out the list of best folding camp chairs we have the Pop Design Hot Seat. The Hot Seat is designed to keep people who need to be outside Warm. Not everyone likes to sit when the temperatures drop even if there is a warm fire in front of you. But if you can keep your backside warm, it's a bit easier to do. This chair uses low voltage heating elements to warm the bottom of the seat to 110 Degrees, enough to warm any buns. If you want to you can use the integrated control button to lower the temperature to create custom comfort. You use your own portable battery, so you can also charge your phone while powering the heater. The seat is warm, comfortable, and easy to use. Try a HOT SEAT today.
---
Hope you enjoyed our Gear Guide for the Best Folding Camp Chairs and best folding rocking chairs. All of our weakly gear guides are based on total sales, reviews, and real-life experience. Did we miss your favorite Camp Chair in this week's edition?
Sign up for all the weakly outdoor gear guides and join our community of thousands of outdoor enthusiasts!
All Products in this blog can be found on Amazon.